Monthly Archives:
March 2016
Today we are going to look at my only athlete, who's main focus outside of the weight room is basketball. His muscular strengths right now is his back which, unfortunately, is his downfall as he compensates every movement by attempting to recruit his spinal erectors (back) to finish movements. This athletes brother trains with me as well, and both rely on their back's during compound movements. I am convinced it is due to poor posture caused by way to many video games (no seriously, all they do is play video games).
There are many pieces to the puzzle to correct this and in the video that will be shown below you can visually see how he relies on his back once the weight gets heavy. This is however a great improvement from what it once was. We have been progressing him down from a box to 1) teach him proper glute and hamstring activation but also to open his hips (externally rotate) allowing him to keep a more neutral spine. The main reason he is going into flexion here is because it is at his top end and he like to get all giraffe like on my and have his knees bow in.
All in all he had a good day, got a weight on his back for reps he has never done before, and his confidence and body is stronger because of it.
This exercise is a straight up SOB. Eccentrics are brutal to begin with but when you push them to the limits by doing 10 second eccentrics for 3 sets of 6 on a movement like squats you get a serious back bump and a lot of rolling around on the ground afterwards. Give them a shot and then let me know what you think (aka curse my name) in the comments.
I tend to be an all or nothing kind of person. I'm constantly trying to find balance in life with the things I do and it's something I have to work at. For some people it's never being motivated (see last week's blog post) and for others it's slowing down and learning how to relax. For me, if I take one sip of a dang monster energy drink then I'm going to drink like 3.. in one day. SO this week I decided to give them up completely (again) because I've come to terms with the fact that I can't have balance with those damn things. I also decided to start drinking a gallon or more of water every day.. So I'm visiting the restroom quite a bit. Again, I'm working on the balance thing.
Having said all of that- this week's blog is my training overview of the past month. I have to say it's been a good month despite dieting a little harder to get ready for my honeymoon/vacation in May. Gunshow is constantly challenging me and I'm getting stronger! I'm finishing up the month with a little deload because I certainly don't have any trouble balancing that.  Lots of videos ahead so feel free to skip around and only watch the ones you care to see.. if any!
There was the 2×4 @ 155 on bench which I thought was cool..
Until later in the month I hit 165 for 4
And then there were squats..
Followed by paused box squats which suck.. Thankful for my gym family to push me when I need it the most.
I'm already sick of the videos too so I'll include one more………. Deadlift. My favorite!
That's all for this month! I'll have another monthly update on my training next month but I promise I won't bore you with videos every week!
What's up everyone? I just wanted to check back in and give some updates on how my training went this past week with Bench and Deadlift. Wednesday was our day to bench and everything felt pretty good, especially my last set. I worked up to 245 for a single and went up 10lbs each set until I got to 275. This was actually a 15lb pr for me since my meet in December. I definitely left some in the tank because I didn't want to push things too hard still being about 5 or 6 weeks out from the meet in April, but for now bench is feeling great!
Friday was deadlift day, and a slightly different story. As I stated in my last blog, my previous single I worked up to on deadlift was 455, so I figured I would try to work up to 475 this time. Things were feeling pretty good working up in weight on these and I had my other teammate, Christian Anto looking at some of my top sets, and he thought everything was looking solid. You'll notice in the video that I am pulling sumo style, which is something that is still fairly new to me, so I am still doing some fine tuning on it. In all of my previous training cycles, I have always used conventional style, but for the first time since our coach David has had us do them, they actually feel good.
If you'll notice in the video, my deadlift is a bit slow. If you look at my hips right before I pull, you will see that they are just a little too high and not open enough. Had I gotten that locked in better, there would have much better leg drive, and it probably would've been much more faster. At least for now I know what I need to work on for next time. Hope you all enjoy, and feel free to give me any feedback in the comments section, and let me know if there is anything that any of you would like to hear about in future articles, or blogs. Thank you.
Now that I've got a title written its all downhill from here right? In all seriousness, I'm ecstatic to start up writing with NBS Fitness and begin sharing some of my ideas and experiences.
For those of you who aren't familiar with me or haven't checked out my bio, I am the provider of on-site chiropractic and a part of the three headed monster that keeps our athletes and members at NBS Fitness in one piece. I joined the team in September of last year and I also practice in Southaven, MS. I am the Mississippi State Rep for United States Strongman, and I'm passionate about all strength sports.
The story of how I ended up here at NBS is definitely unique, but shows just how important and special relationships in the strength sports community are. I like to joke that the real reason I made the move from Iowa to here was because of NBS Fitness, but honestly, its really not that far of a stretch. Let's say 50/50.
During my time in graduate school in St. Louis I built some ties with the strongman community, specifically the president of United States Strongman, Willie Wessels. I had previously been a powerlifter, and was looking to do something more functional. During this time, a few of my buddies from Iowa had gotten into strongman and happened to know a few strongman athletes in the St. Louis area that trained at Willie's gym. One weekend they made a day trip to train events and I decided to meet them at the gym to see what strongman was all about. The event work was challenging but fun and peaked my interest. After that day, I continued to come back a few Saturdays a month to train events and soon started gravitating more and more towards strongman.
By the time I graduated I had competed twice in strongman, treated at one of Willie's shows, and promoted two other strongman events as well. In the summer of 2015, I asked to help provide chiropractic care at United States Strongman Nationals in Indianapolis, and was able to do just that. Treating at USS Nationals was a great experience. As the first ever USS Nationals, the atmosphere was electric and a lot of the athletes put on impressive performances. I also met and treated a lot of people in the strongman community including a few members from NBS Fitness.
As luck would have it, a month later my search to further my career sent me on a trip to Memphis, and because of USS Nationals, I remembered NBS Fitness was there and decided to stop by and check it out as well. I was instantly greeted, and slightly attacked by an overzealous member of the staff I had met at USS Nats, whose name I will not disclose (but it rhymes with Schmunshow). As I met the rest of the staff, viewed the rest of the facilities and basked in the atmosphere of badassery that is NBS Fitness, I knew I had found a home in Memphis. The rest, as they say, is history.
Now that we have the introductions out of the way, you can look forward to most of my blog being personal thoughts, updates on my training, new news in the strongman community, or quick tips to keeping your body healthy and recovery up. I encourage discussion and questions, as well as particular topics you would like to hear as well!
Early morning session are something I have not done in awhile with clients as I was prepping for the 2016 XPC Finals at the Arnold (you can find my write up w/ video of this on EliteFTS). Now that it is over, I am really focusing on how balance all my plates. One of the shifts in my focus is towards work and my clients needs. This involves making myself available more during the day and several of my clients needed to meet early in the morning, although I am not a big fan of this, I feel more is able to get done during the day. I am able to read more (continual education) and address administration task's, such as, catching up with online programming, having personal training clients pre-programmed, and scheduling out my week.
Coaching
My early morning clients goal is general strength gain, we are finishing up our second four week Hypertrophy plan before moving him back into a strength phase. This client in particular has poor posture, I am convinced it is from being at school all day and, when at home, the majority of his time is spend playing video games (in a hunched over position) which was admitted to me. During this hypertrophy phase I made him pay extra attention to the proprioception of his back musculature, so during upper or lower back exercises I make him verbalize to me after every set where he is feeling the tension. Below is a video of us using the 45 degree hyper, now we just talked about back muscle activation, and although we were using the 45 degree hyper for glutes and hamstrings, you can see him wanting to allow his back to go into flexion. So this video is predominantly being shown so you can see me coaching him OUT of his poor posture which wants to take over this movement.
If you have and questions or information you would like to see please comment or email me!
Welcome to my metal song of the week section where I will choose a metal song to metal your face and give you gains.
Kicking off we have Disturbed's new single "The Vengeful One" from their new CD immortalized. There are two things I love about this song: first, is was a their first single after a hiatus from producing new music and they come back with the same powerful sound with some new twists that they've been able to continue to do CD after CD. Second, the music video is just awesome. Check it out below
So a lot of blogs will strictly be about training, methods applied, and rants. I am going to attempt to bring different angles to everyone interested in checking out NBS Fitness and getting to know the trainers. Ill be brining you along for the ride of what goes through my head with goals for clients, how a strength coach helps others reach their goals, and ways that I attempt to learn after graduating.
A background on individuals being trained, currently I coach:
1 Basketball Athlete
3 full throttle clients who are doing hypertrophy trying to get bigger
1 busy client balancing general strength training and jujitsu
1 older client focusing on making life easier outside of the gym
2 clients doing general strength training
I will have many videos just being goofy and including you on my journey to be the best Strength Coach I can be.
Blogs are for motivation right? I'm supposed to enter something super motivational and something that will inspire you to change your life and be awesome. Maybe.. but you might not find that here. I've honestly never blogged before and I'm really excited to start this blogging chapter of my life.. So here it goes!
You know what really gets me fired up is when someone says "I'm just not motivated"… maybe I should be a little more sensitive but I think of it like this: either you're dedicated or you're not. Motivation will come and go but you have to stick with the plan even when you're not motivated if you want to reach your goals. Sure, there will be times in life when you need to take time off and that's okay, but don't let "motivation" be the limiting factor in reaching your goals. I get motivated like 2x a month.. small things motivate me. Like hitting a lift with ease or seeing more definition in my arms but I don't wake up every day going "I CAN'T WAIT TO TRAIN!!". Sometimes I do, but it's not all the time. And you know what I do on the days that I don't wake up like that? I think about my goals and why I do what I do.. I don't have to feel super pumped about it but I get it done.
BUT when I am feeling pumped, I feed that shiz! This week I'm digging the song "Team" by Iggy Azalea.. maybe it's lame and girly but who cares. I honestly don't know what the song is even about but it fires me up!
Alright..We all took a little break from blogging.  And by little, I mean that the last time I blogged was on the tail end of 2014, after Memphis' Strongest Woman
Since then…
–I moved to Memphis to formally join my homies at NBS.
–I dug my feet into strongman training and got pretty good at some aspects of it. I am the USS Tennessee state co-representative.
–I got a dog
–I bombed out of a powerlifting meet and snapped out of a funk
–NBS created the Womens Powerlifting, and Im becoming less of a poverty powerlifter because of it.  Info on our powerlifting teams here
–NBS is standing about 3 weeks away from moving into a new, upgraded facility, which is really, really exciting. Info on the facility here
–I competed in figure for the final time, and have decided that I will go forth with physique
–I talked my gal pal, Courtney, into being my training partner.  You will likely see a lot of her in this blog, also.
Things you can look forward to within this blog:
–Some highlights from my training each week
–Memes
–Beyonce appreciation
–Random thoughts I have.
Things that will not be in this blog:
–every single detail of every single set of every single training session I do
–photos of food. Unless its really, really amazing
–inspirational quotes
Alright, everyone bear with me for the next couple of weeks. Blogging is something that is still new to me and I'm still trying to get a feel for everything. We've got a lot of stuff going on at NBS right now. We are moving into our new facility in about 2 or 3 weeks, and we have a strongman competition and a powerlifting competition booked in the same month! I'm a little nervous, but very excited for all of the new changes that are about to come. With all of that being said, I figured I would just touch on my training for a minute, and let everyone know how its been going.
For the past 12 or 13 weeks our coach David Allen has had us running a variation of 5/3/1. Personally, I have been enjoying the hell out of it! Its been pretty cool getting back to doing some overhead pressing and working with varying percentages each week. And best of all, my teammates and I have actually been getting stronger! We've been training in three week cycles, and every 3rd week we hit a single for each of the four main movements. My last competition was in December, and my best lifts were Squat-450, Bench-260, and Deadlift-455. 3 weeks ago, I took my bench press for a single and hit 260 with no issues. That same week I hit a 455 deadlift pretty easily too. Two days ago on Monday, I hit a 420 squat for 1, (no wraps). This is posted in the video below.  The first two lifts were hit at about 8 or 9 weeks out from the meet, so needless to say I'm pretty happy with the way things have been going. I will try to continue to keep everyone updated on how everything is going leading up to the meet, and post some videos as well. In the mean time, I hope you all enjoy my blogs and articles to come in the future.
The new facility is coming along great! All the framing and dry wall is up so you can get a really good idea of what the layout will look like. The duct work is all in place as well. Everything looks to be on schedule and we should be in the facility by early to mid April. This place is going to be sick so stay tuned for more updates!
As mentioned in my last log post, I traveled out of town to watch the last weekend of horse races in Hot Springs, AK. this past Saturday.

Training had to be put on hold since there was to much crammed into one day. I was kind of irritated at first but, it is off season and I am working on balance between going full throttle in training, grinding hard working, and spending time with friends and family outside of the gym.
Today was a surprise to me as I was told, "we are going to HIKE Pinnicale Mountain".  I have not done any type of cardio since two days before the XPC Finals so I figured this would be good for me. Little did I know that this would be no hike at all, hence the name Pinnicale MOUNTAIN.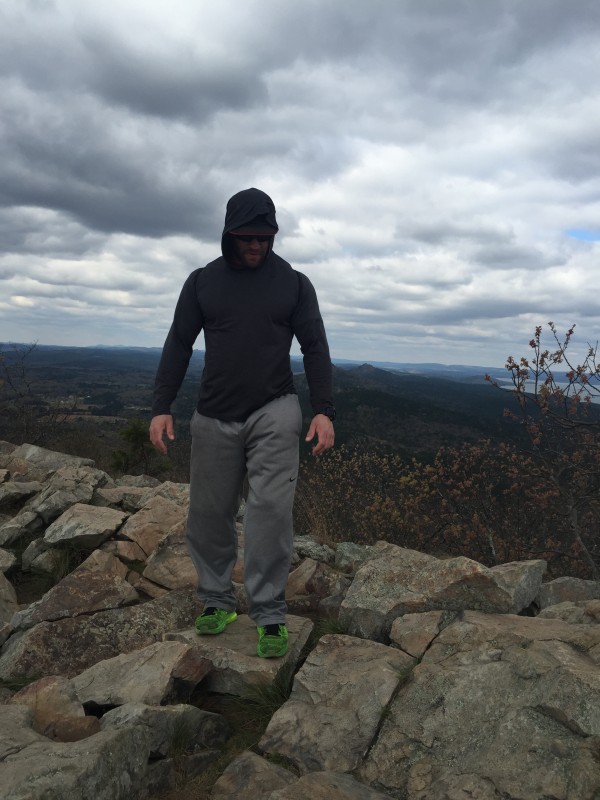 This "Trail" leading up to the summit got steep real quick, real quick, like zero to one hundred real quick. I was not ready (Kevin Heart voice) and 15 minutes into our climb my calves were destroyed and my heart rate was sky high. By the time we got half way up the mountain we were straight climbing rocks that were spray painted in the "suggested climb" direction, I kept laughing cause I thought this was going to be a hike and I was DYING. All-in-all I am very glad I did not train yesterday and very happy for the decision to mountain climb.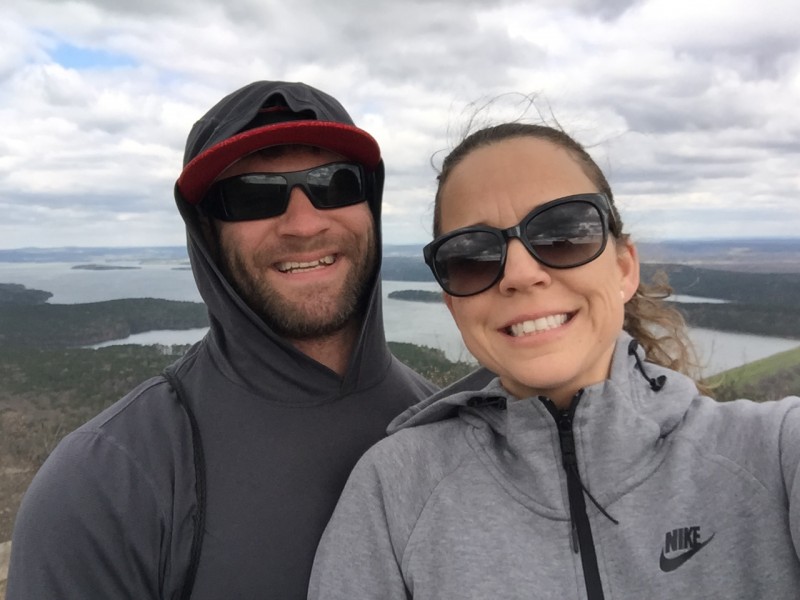 Today the Legs and Delts got … TRASHED